Mukul Roy returns to Trinamool fold after four years - Times of India
NEW DELHI: Ending all suspense, Mukul Roy and son Subhranshu returned to the Trinamool fold on Friday. Roy, who was one of the first frontline TMC leader to switch over to BJP nearly four years back, today returned to the Trinamool, the party he was associated since the days of its forming. The entire Trinamool top brass, including Mamata Banerjee, her nephew and party general secretary Abhishek Banerjee, Partha Chatterjee, Subrata Mukherjee and Subrata Bakshi were present at the event to welcome Roy back. Roy played an active role in BJP's campaign for the recently concluded Bengal assembly polls. Despite a spirited campaign, the BJP could win only 77 seats in the 294-seat Bengal assembly. Following the assembly election results, fissures started emerging in the Bengal BJP, and the saffron party saw several desertions, mostly to the Trinamool. Welcoming Mukul back to the TMC, party supremo Mamata said Roy had said nothing against Trinamool, despite campaigning for the BJP. He was cajoled into joining BJP with threats of action by Central agencies. These had an adverse effect on Roy's health, Mamata said. She added that the party's doors are not open to those who deserted the party before elections for lure of money, or had criticized the party. Soon after formally returning to Trinamool, Mukul Roy said that the present situation is such that nobody will want to remain remain in BJP. It feels good to see all known faces again, having come out of BJP, he added. Roy, once the former second-in-command of the TMC who joined the saffron party in November 2017, has been distancing himself from the BJP for the last several days. Roy, once a close aide of West Bengal chief minister Mamata Banerjee, did not attend June 8 meeting to discuss the post-election strategy called by the state BJP leadership. BJP's Bengal unit had held a high-powered organisational meeting on Tuesday where party leaders were required to be physically present. The absence of two other BJP heavyweights Shamik Bhattacharya and Rajib Banerjee at the meeting had sparked a buzz in the state politics after the fierce battle between the BJP and the TMC in the recent assembly election. This comes at a time when several turncoat politicians, who switched from the TMC to BJP ahead of assembly polls, have expressed regret over their decision to quit the Mamata Banerjee-led party. Before rising to prominence in the BJP, Mukul Roy was a founder-member of the TMC which he quit in 2017. Rajib Banerjee left the TMC in January this year and contested the West Bengal assembly polls on a BJP ticket. BJP lost the polls but emerged as the second-largest party with 77 seats in the 294-member state assembly. Trinamool Congress registered a landslide victory winning 213 seats. (With inputs from agencies)Adblock test (Why?)
NEW DELHI: Ending all suspense, Mukul Roy and son Subhranshu returned to the Trinamool fold on Friday.
Roy, who was one of the first frontline TMC leader to switch over to BJP nearly four years back, today returned to the Trinamool, the party he was associated since the days of its forming.
The entire Trinamool top brass, including Mamata Banerjee, her nephew and party general secretary Abhishek Banerjee, Partha Chatterjee, Subrata Mukherjee and Subrata Bakshi were present at the event to welcome Roy back.
Roy played an active role in BJP's campaign for the recently concluded Bengal assembly polls.
Despite a spirited campaign, the BJP could win only 77 seats in the 294-seat Bengal assembly. Following the assembly election results, fissures started emerging in the Bengal BJP, and the saffron party saw several desertions, mostly to the Trinamool.
Welcoming Mukul back to the TMC, party supremo Mamata said Roy had said nothing against Trinamool, despite campaigning for the BJP. He was cajoled into joining BJP with threats of action by Central agencies. These had an adverse effect on Roy's health, Mamata said.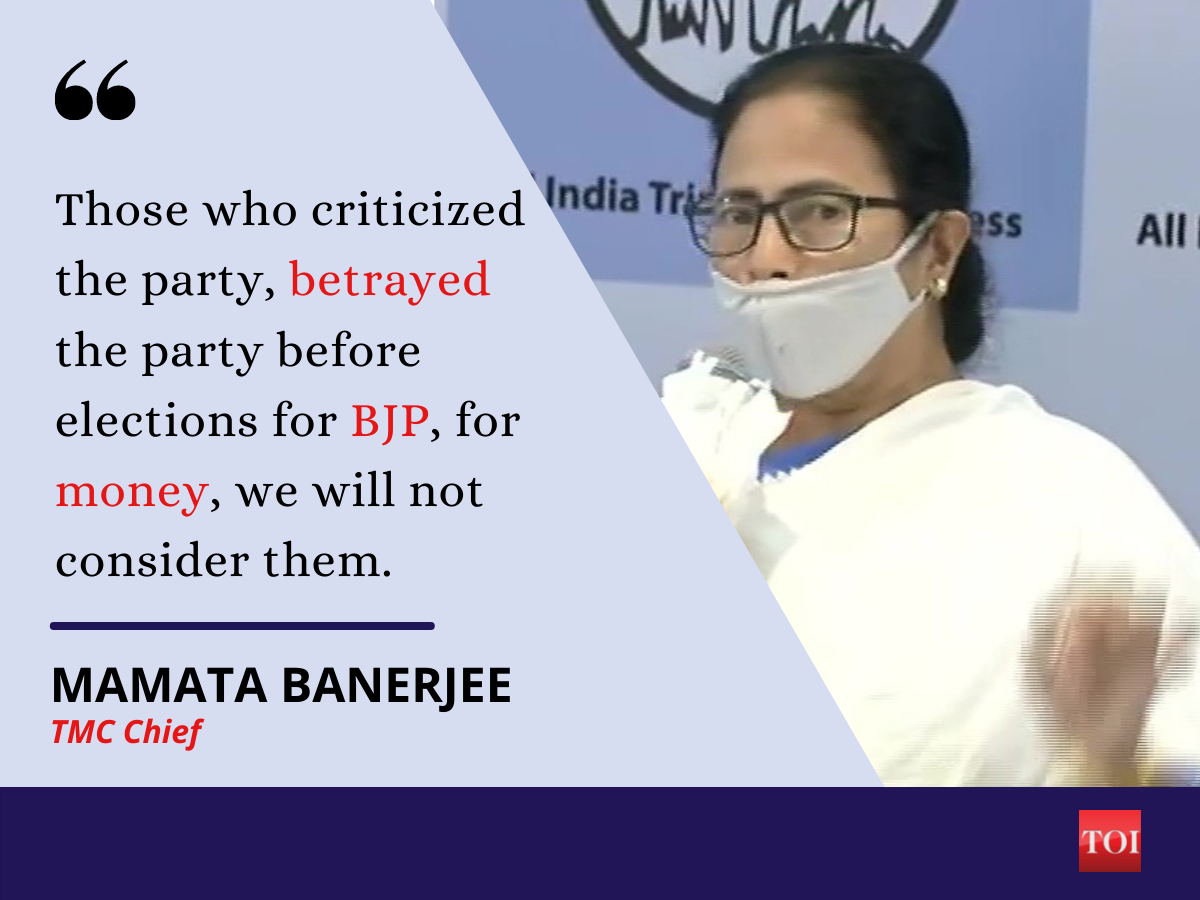 She added that the party's doors are not open to those who deserted the party before elections for lure of money, or had criticized the party.
Soon after formally returning to Trinamool, Mukul Roy said that the present situation is such that nobody will want to remain remain in BJP. It feels good to see all known faces again, having come out of BJP, he added.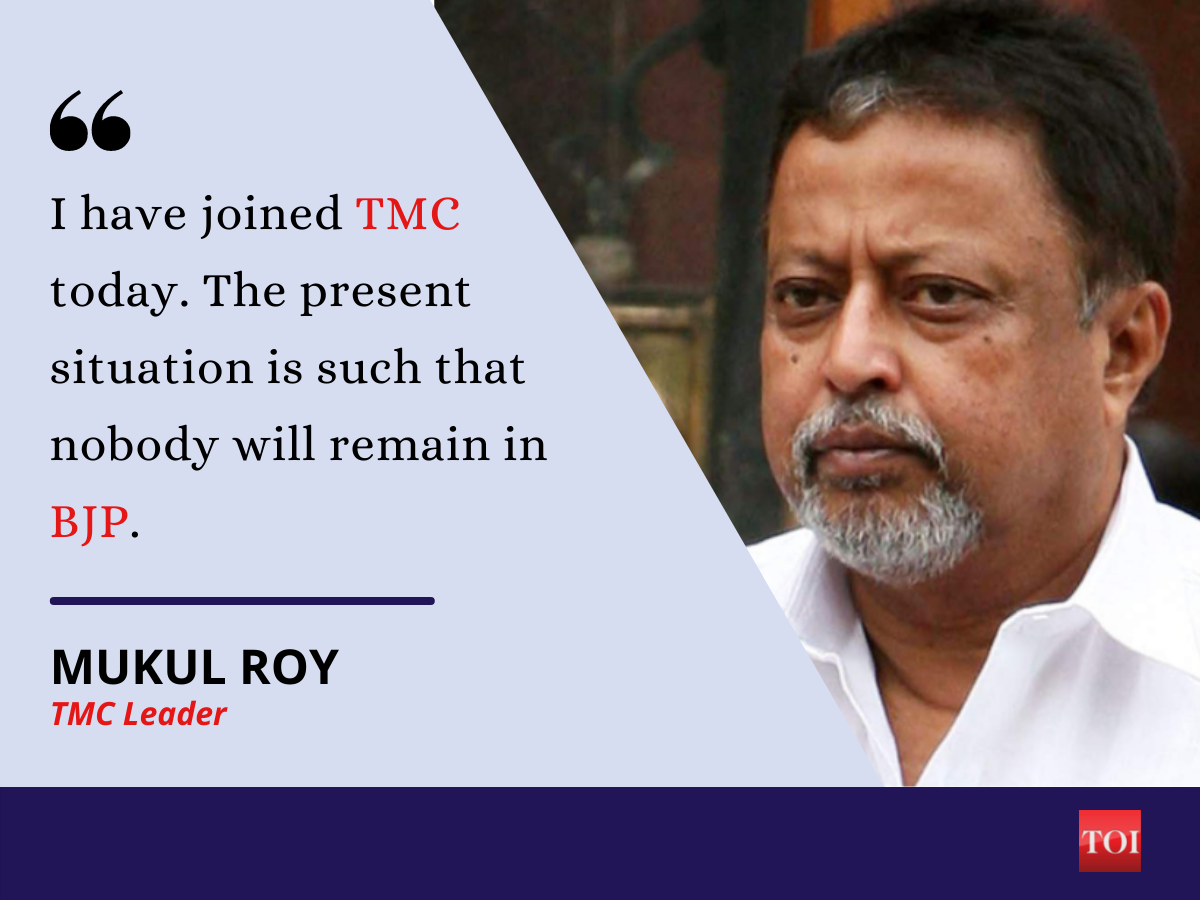 Roy, once the former second-in-command of the TMC who joined the saffron party in November 2017, has been distancing himself from the BJP for the last several days.
Roy, once a close aide of West Bengal chief minister Mamata Banerjee, did not attend June 8 meeting to discuss the post-election strategy called by the state BJP leadership.
BJP's Bengal unit had held a high-powered organisational meeting on Tuesday where party leaders were required to be physically present.
The absence of two other BJP heavyweights Shamik Bhattacharya and Rajib Banerjee at the meeting had sparked a buzz in the state politics after the fierce battle between the BJP and the TMC in the recent assembly election.
This comes at a time when several turncoat politicians, who switched from the TMC to BJP ahead of assembly polls, have expressed regret over their decision to quit the Mamata Banerjee-led party.
Before rising to prominence in the BJP, Mukul Roy was a founder-member of the TMC which he quit in 2017. Rajib Banerjee left the TMC in January this year and contested the West Bengal assembly polls on a BJP ticket.

BJP lost the polls but emerged as the second-largest party with 77 seats in the 294-member state assembly. Trinamool Congress registered a landslide victory winning 213 seats.