In bitter battle for Bengal, it's Mamata vs ex-loyalist today - Times of India
The second phase of polling in Assam and West Bengal features probably the most high-profile contest of these elections — the showdown between Mamata Banerjee and Suvendu Adhikari in Nandigram. That contest sets the tone for the 30 seats that poll in Bengal on Thursday with BJP hoping to do even better than it did in the 2019 Lok Sabha polls. In the 2016 assembly elections, the contest in these parts had been largely between Trinamool and the Left-Congress alliance with BJP polling just 7.4% of votes and winning one seat. But by 2019, BJP had upped its vote share to 42.4% to grab the lead in 12 assembly segments. Trinamool's slightly higher vote share of 45.9% gave it six more seats leaving Left and Congress with no leads here. With the Adhikari clan having been a crucial part of the Trinamool machinery in this south-western part of the state, BJP would be hoping to reverse roles in this area. Left, on the other hand, will be banking on getting back some part of the votes that went towards BJP in the Lok Sabha election, in which it had been reduced to near irrelevancy. In Assam, BJP had won 22 of these 39 seats in the 2016 assembly polls and raised that to 27 leads in the 2019 Lok Sabha elections. Even more impressively, its vote share two years ago was just a tad under 50%. The 39 seats are largely in the Barak Valley, central Assam and the hill districts, areas with a much more mixed ethnic and religious composition than in the first phase. As a result, BJP will have to contend with the combined strength of the Congress, AUDF and the Bodoland People's Front in these parts with the Left, too, chipping in for the opposition alliance. Of the 39 seats, BJP is contesting 34, leaving five for its junior partners the AGP and UPPL, a rival of the BPF in the Bodo areas. In contrast, Congress is contesting only 28 of the seats, letting AUDF (5), BPF (4), CPI and CPM (one each) contest the rest. Much more than in the first phase, this will test the cohesion of the opposition alliance. BJP has reason to hope that any arithmetic disadvantage it may have because of the alliance between Congress, AUDF, BPF and Left will be offset by the goodwill that the CAA issue has generated for the party among Hindu Bengalis in the Barak Valley, once a constituency the Congress could bank on. Let's block ads! (Why?)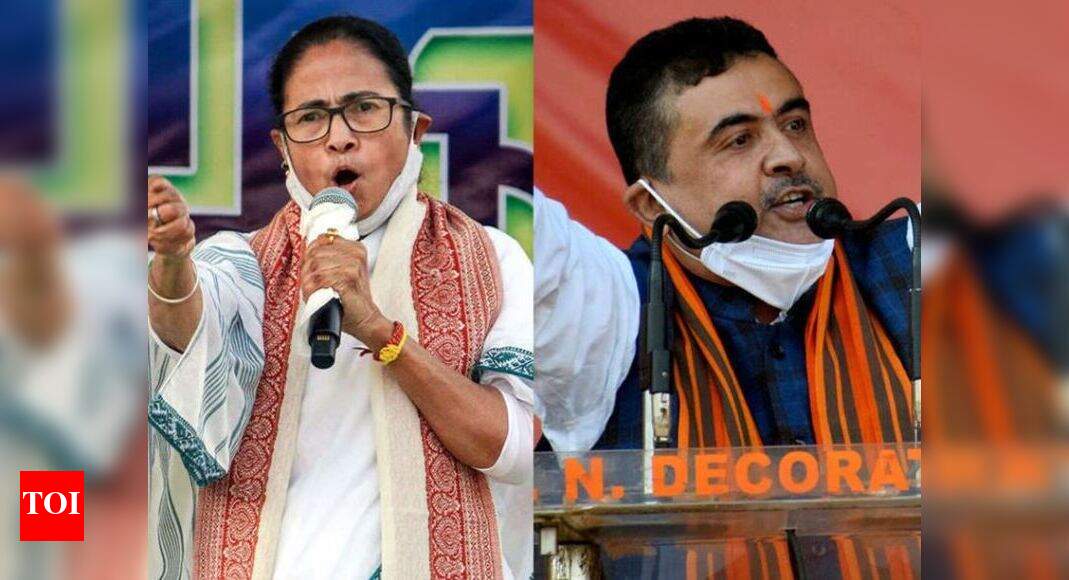 The second phase of polling in Assam and West Bengal features probably the most high-profile contest of these elections — the showdown between Mamata Banerjee and Suvendu Adhikari in Nandigram. That contest sets the tone for the 30 seats that poll in Bengal on Thursday with BJP hoping to do even better than it did in the 2019 Lok Sabha polls.
In the 2016 assembly elections, the contest in these parts had been largely between Trinamool and the Left-Congress alliance with BJP polling just 7.4% of votes and winning one seat. But by 2019, BJP had upped its vote share to 42.4% to grab the lead in 12 assembly segments. Trinamool's slightly higher vote share of 45.9% gave it six more seats leaving Left and Congress with no leads here.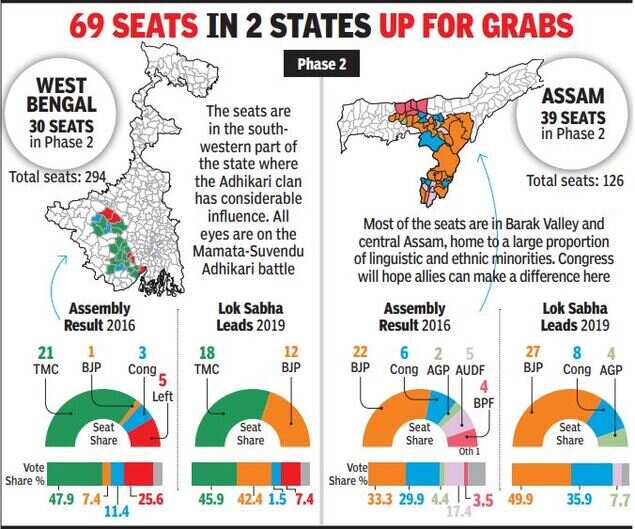 With the Adhikari clan having been a crucial part of the Trinamool machinery in this south-western part of the state, BJP would be hoping to reverse roles in this area. Left, on the other hand, will be banking on getting back some part of the votes that went towards BJP in the Lok Sabha election, in which it had been reduced to near irrelevancy.
In Assam, BJP had won 22 of these 39 seats in the 2016 assembly polls and raised that to 27 leads in the 2019 Lok Sabha elections. Even more impressively, its vote share two years ago was just a tad under 50%.
The 39 seats are largely in the Barak Valley, central Assam and the hill districts, areas with a much more mixed ethnic and religious composition than in the first phase. As a result, BJP will have to contend with the combined strength of the Congress, AUDF and the Bodoland People's Front in these parts with the Left, too, chipping in for the opposition alliance.
Read More: hack instagram account
Of the 39 seats, BJP is contesting 34, leaving five for its junior partners the AGP and UPPL, a rival of the BPF in the Bodo areas. In contrast, Congress is contesting only 28 of the seats, letting AUDF (5), BPF (4), CPI and CPM (one each) contest the rest.
Much more than in the first phase, this will test the cohesion of the opposition alliance. BJP has reason to hope that any arithmetic disadvantage it may have because of the alliance between Congress, AUDF, BPF and Left will be offset by the goodwill that the CAA issue has generated for the party among Hindu Bengalis in the Barak Valley, once a constituency the Congress could bank on.