Former bureaucrat and PM Modi's aide appointed UP BJP vice-president - Times of India
NEW DELHI: Former bureaucrat AK Sharma, who is a close aide of Prime Minister Narendra Modi, was on Saturday appointed as the vice president of the BJP's Uttar Pradesh unit. The appointment comes amid talks of dissidence within the UP BJP ahead of the crucial assembly elections slated for next year. In an official statement, BJP state unit's president Swatantra Dev Singh also announced the appointments of Archana Mishra from Lucknow and Amit Valmiki from Bulandshahr as secretaries of the state unit. Earlier this year, the 1988 batch IAS officer had resigned from his post and became a BJP MLC in the state. Sharma had joined PM Modi as secretary in October 2001 when the former took over as the Gujarat CM. He continued to work with him in the PMO from 2014 onward as well and took over as the MSME secretary in April 2020. Sharma is known for delivering time-bound results. He earned PM Modi's trust as the secretary in his CMO by successfully handing Vibrant Gujarat campaign to get investment to the state. He served in PMO for six years. The appointment comes days after UP CM Yogi Adityanath met PM Modi and Amit Shah in the national capital amid reports of some state BJP leaders demanding a leadership change. Deputy CM Keshav Prasad Maurya had said the party's national leadership will decide under whom the upcoming elections will be fought. However, on Friday, UP BJP chief Singh asserted that the elections will be contested under the leadership of Yogi Adityanath. (With inputs from agencies)Adblock test (Why?)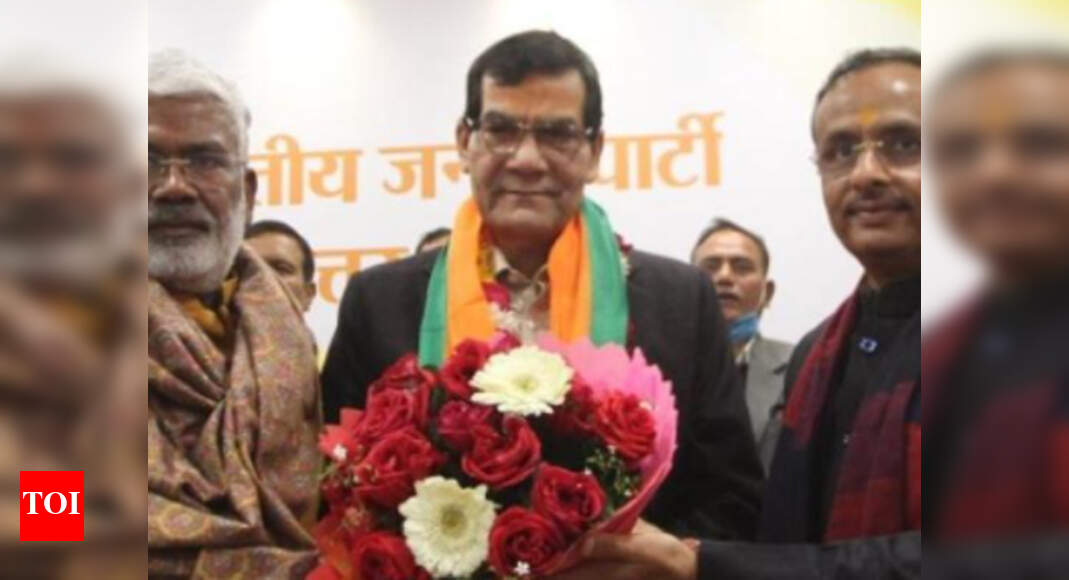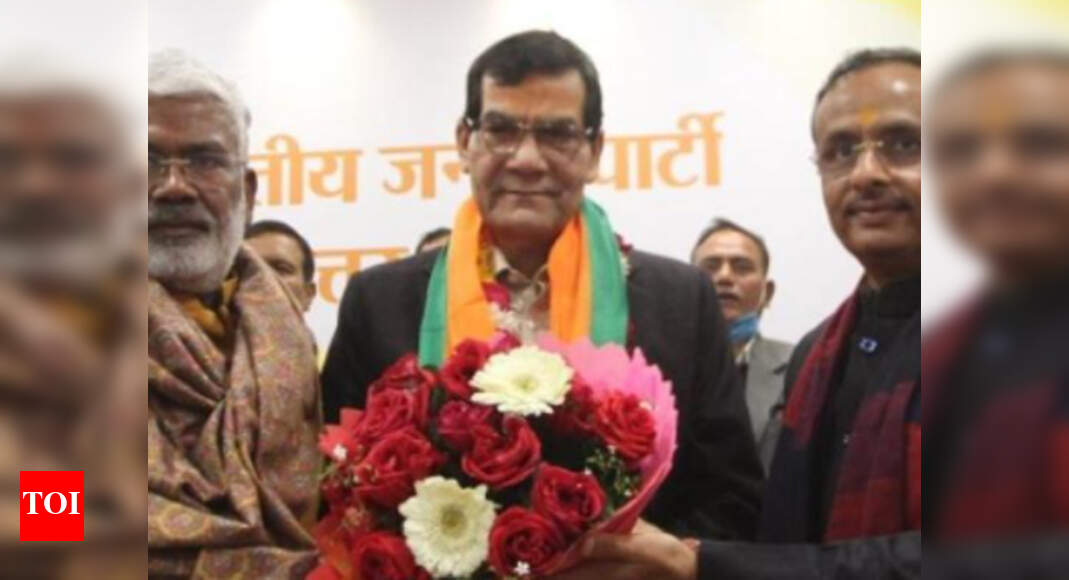 NEW DELHI: Former bureaucrat AK Sharma, who is a close aide of Prime Minister Narendra Modi, was on Saturday appointed as the vice president of the BJP's Uttar Pradesh unit.
The appointment comes amid talks of dissidence within the UP BJP ahead of the crucial assembly elections slated for next year.
In an official statement, BJP state unit's president Swatantra Dev Singh also announced the appointments of Archana Mishra from Lucknow and Amit Valmiki from Bulandshahr as secretaries of the state unit.
Earlier this year, the 1988 batch IAS officer had resigned from his post and became a BJP MLC in the state.
Sharma had joined PM Modi as secretary in October 2001 when the former took over as the Gujarat CM.
He continued to work with him in the PMO from 2014 onward as well and took over as the MSME secretary in April 2020.
Sharma is known for delivering time-bound results. He earned PM Modi's trust as the secretary in his CMO by successfully handing Vibrant Gujarat campaign to get investment to the state. He served in PMO for six years.
The appointment comes days after UP CM Yogi Adityanath met PM Modi and Amit Shah in the national capital amid reports of some state BJP leaders demanding a leadership change.
Deputy CM Keshav Prasad Maurya had said the party's national leadership will decide under whom the upcoming elections will be fought.
https://s3.us.cloud-object-storage.appdomain.cloud/cl0ud/091-Jurassic-World-Alive-Hack.pdf https://s3.us.cloud-object-storage.appdomain.cloud/cl0ud/0a7-NBA-2K-Mobile-Basketball-Hack.pdf https://s3.us.cloud-object-storage.appdomain.cloud/cl0ud/0AY-Pixel-Gun-3D-Hack.pdf https://s3.us.cloud-object-storage.appdomain.cloud/cl0ud/0dO-Double-Win-Casino-Hack.pdf https://s3.us.cloud-object-storage.appdomain.cloud/cl0ud/0ec-Grow-Empire-Rome-Hack.pdf https://s3.us.cloud-object-storage.appdomain.cloud/cl0ud/0q2-Bingo-Pop-Hack.pdf https://s3.us.cloud-object-storage.appdomain.cloud/cl0ud/0Q4-Asphalt-9-Legends-Hack.pdf https://s3.us.cloud-object-storage.appdomain.cloud/cl0ud/0R9-Mega-Hit-Poker-Hack.pdf https://s3.us.cloud-object-storage.appdomain.cloud/cl0ud/16i-The-Sims-Freeplay-Hack.pdf https://s3.us.cloud-object-storage.appdomain.cloud/cl0ud/16L-Olympus-Rising-Hack.pdf https://s3.us.cloud-object-storage.appdomain.cloud/cl0ud/1bI-Ultimate-tennis-Hack.pdf https://s3.us.cloud-object-storage.appdomain.cloud/cl0ud/1bX-Dragon-Mania-Legends-Hack.pdf https://s3.us.cloud-object-storage.appdomain.cloud/cl0ud/1Mq-World-War-Heroes-Hack.pdf https://s3.us.cloud-object-storage.appdomain.cloud/cl0ud/1v3-Smutstone-Hack.pdf https://s3.us.cloud-object-storage.appdomain.cloud/cl0ud/1xG-Yu-Gi-Oh-Duel-Links-Hack.pdf https://s3.us.cloud-object-storage.appdomain.cloud/cl0ud/20a-Avabel-Online-Hack.pdf https://s3.us.cloud-object-storage.appdomain.cloud/cl0ud/289-Hay-Day-Hack.pdf https://s3.us.cloud-object-storage.appdomain.cloud/cl0ud/2bC-A3-Still-Alive-Hack.pdf https://s3.us.cloud-object-storage.appdomain.cloud/cl0ud/2Ja-Dragonscapes-Adventure-Hack.pdf https://s3.us.cloud-object-storage.appdomain.cloud/cl0ud/2jK-Girls-X-Battle-2-Hack.pdf https://s3.us.cloud-object-storage.appdomain.cloud/cl0ud/2MJ-Fire-Emblem-Heroes-Hack.pdf https://s3.us.cloud-object-storage.appdomain.cloud/cl0ud/2t6-Bingo-Blitz-Hack.pdf https://s3.us.cloud-object-storage.appdomain.cloud/cl0ud/2Vx-Poker-Heat-Hack.pdf https://s3.us.cloud-object-storage.appdomain.cloud/cl0ud/2w0-Dice-Dreams-Hack.pdf https://s3.us.cloud-object-storage.appdomain.cloud/cl0ud/2ys-Manyvids-Free-Premium-Account-Hack.pdf https://s3.us.cloud-object-storage.appdomain.cloud/cl0ud/397-Arknights-Hack.pdf https://s3.us.cloud-object-storage.appdomain.cloud/cl0ud/39C-PGA-Tour-Golf-Shootout-Hack.pdf https://s3.us.cloud-object-storage.appdomain.cloud/cl0ud/3hb-Monster-Super-League-Hack.pdf https://s3.us.cloud-object-storage.appdomain.cloud/cl0ud/3tB-Online-Soccer-Manager-Hack.pdf https://s3.us.cloud-object-storage.appdomain.cloud/cl0ud/3To-Pokemon-Masters-EX-Hack.pdf https://s3.us.cloud-object-storage.appdomain.cloud/cl0ud/3Y0-Super-Hit-Baseball-Hack.pdf https://s3.us.cloud-object-storage.appdomain.cloud/cl0ud/45n-Bowling-King-Hack.pdf https://s3.us.cloud-object-storage.appdomain.cloud/cl0ud/48v-Marvel-Contest-of-Champions-Hack.pdf https://s3.us.cloud-object-storage.appdomain.cloud/cl0ud/4m2-Baseball-Clash-Hack.pdf https://s3.us.cloud-object-storage.appdomain.cloud/cl0ud/52s-Basketball-Stars-Hack.pdf https://s3.us.cloud-object-storage.appdomain.cloud/cl0ud/53N-Simcity-Buildit-Hack.pdf https://s3.us.cloud-object-storage.appdomain.cloud/cl0ud/54R-Black-Desert-Mobile-Hack.pdf https://s3.us.cloud-object-storage.appdomain.cloud/cl0ud/57d-Toon-Blast-Hack.pdf https://s3.us.cloud-object-storage.appdomain.cloud/cl0ud/586-March-Of-Empires-Hack.pdf https://s3.us.cloud-object-storage.appdomain.cloud/cl0ud/617-Marvel-Strike-Force-Hack.pdf https://s3.us.cloud-object-storage.appdomain.cloud/cl0ud/61d-World-At-Arms-Hack.pdf https://s3.us.cloud-object-storage.appdomain.cloud/cl0ud/64V-Age-Of-Magic-Hack.pdf https://s3.us.cloud-object-storage.appdomain.cloud/cl0ud/6BT-Forsaken-World-Gods-And-Demons-Hack.pdf https://s3.us.cloud-object-storage.appdomain.cloud/cl0ud/6mi-Harbingers-Last-Survival-Hack.pdf https://s3.us.cloud-object-storage.appdomain.cloud/cl0ud/73Y-Injustice-2-Hack.pdf https://s3.us.cloud-object-storage.appdomain.cloud/cl0ud/74h-Real-Racing-3-Hack.pdf https://s3.us.cloud-object-storage.appdomain.cloud/cl0ud/798-Golf-Rival-Hack.pdf https://s3.us.cloud-object-storage.appdomain.cloud/cl0ud/7be-Ninjagirls-Reborn-Hack.pdf https://s3.us.cloud-object-storage.appdomain.cloud/cl0ud/7k7-WWE-Champions-Hack.pdf https://s3.us.cloud-object-storage.appdomain.cloud/cl0ud/7qk-Xbox-Gift-Card-Generator-Hack.pdf https://s3.us.cloud-object-storage.appdomain.cloud/cl0ud/8C4-One-Piece-Treasure-Cruise-Hack.pdf https://s3.us.cloud-object-storage.appdomain.cloud/cl0ud/8EL-Scatter-Slots-Hack.pdf https://s3.us.cloud-object-storage.appdomain.cloud/cl0ud/8Fl-Battle-Cats-Hack.pdf https://s3.us.cloud-object-storage.appdomain.cloud/cl0ud/8hS-WWE-Supercard-Hack.pdf https://s3.us.cloud-object-storage.appdomain.cloud/cl0ud/8M4-Azure-Lane-Hack.pdf https://s3.us.cloud-object-storage.appdomain.cloud/cl0ud/8m5-Mobile-Royale-Hack.pdf https://s3.us.cloud-object-storage.appdomain.cloud/cl0ud/8Og-Global-City-Hack.pdf https://s3.us.cloud-object-storage.appdomain.cloud/cl0ud/9Ai-Golden-Tee-Golf-Hack.pdf https://s3.us.cloud-object-storage.appdomain.cloud/cl0ud/9Bu-Injustice-Gods-Among-Us-Hack.pdf https://s3.us.cloud-object-storage.appdomain.cloud/cl0ud/9RA-NBA-Live-Mobile-Hack.pdf
However, on Friday, UP BJP chief Singh asserted that the elections will be contested under the leadership of Yogi Adityanath.
(With inputs from agencies)