COVID-19 update | No evidence that children will be severely affected in third wave, says AIIMS director... - Moneycontrol.com
Bharat Biotech, the Hyderabad-based COVID-19 vaccine maker, recently received approval from the Drugs Controller General of India to conduct clinical trials on children between the age of 2 and 18 (Representative image: PTI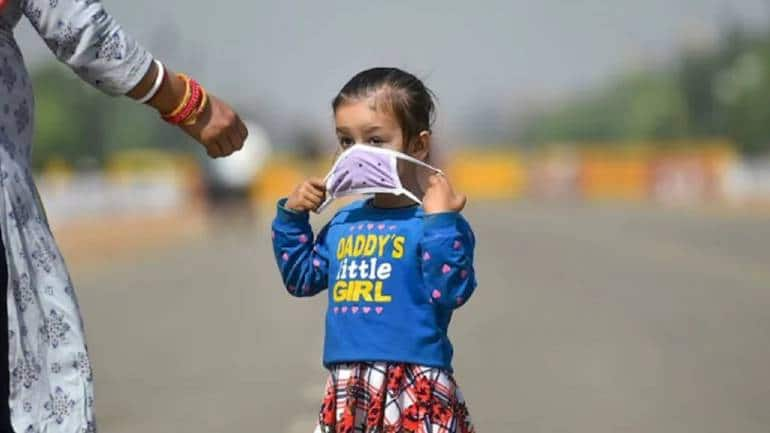 Bharat Biotech, the Hyderabad-based COVID-19 vaccine maker, recently received approval from the Drugs Controller General of India to conduct clinical trials on children between the age of 2 and 18 (Representative image: PTI)
There is no evidence that children would be severely affected in the third wave of COVID-19, AIIMS Director Randeep Guleria said on May 24
Guleria's comment came a day after the Indian Academy of Paediatrics (IAP) has said that though children remain susceptible to COVID-19 infection, it was "highly unlikely that the third wave will predominantly or exclusively affect children"
"Data shows that the COVID-19 infection is less frequent among children. Even if it infects children, it is mild. This pattern has been similar in both the first and second wave though the virus is the same. So there is no indication that the third wave will infect more children," Guleria said in response to a journalist at the Ministry of Health and Family Welfare's routine presser on May 24.
"There is no evidence that children will be infected more in the third wave," he repeated.
COVID-19 vaccine | Bharat Biotech to begin Covaxin trial for 2-18 age group on June 1
Earlier, the ministry's Joint Secretary, Lav Agarwal, said that the pattern of infection among age groups in both waves has been similar. "We have noted that the mortality has also been primarily reported among people who are either 60+ in age or have co-morbidities," Agarwal said.
In an advisory issued on May 23, IAP said that almost 90 per cent of the infections in children so far have been mild or asymptomatic.
Last week, NITI Aayog member (Health) Dr VK Paul had said that children contract COVID-19, contradictory to popular assumptions, and can spread the virus. He, however, said they almost always have mild infection and that mortality is very low in them.
As much as 26 percent of the population in India is less than 14 years of age and nearly seven percent are less than five years old.
The ministry has also noted that for the last 17 days, there is a steady decline in daily new COVID-19 cases in India. There has been a 2.6 times increase in the number of COVID tests done in the past 15 weeks in the country along with a steady dip in the weekly positivity rate reported in the last two weeks.
On May 23, Bharat Biotech said that it was planning to start the pediatric trial of its indigenously made COVID-19 vaccine Covaxin in June. The Hyderabad-based vaccine maker recently received approval from the Drugs Controller General of India to conduct clinical trials on children between the age of 2 and 18.
Agarwal also said that the government was trying to facilitate procurement of Pfizer, Moderna vaccines through central level coordination
"We are working on regulatory facilitation in terms of approval, and procurement-related facilitation. Order books of Pfizer, Moderna are full most of the time. It depends on their surplus how much they can provide to India. They will come back to the Government of India and we will then ensure vaccine facilitation at the state level," he said.
kharbata ladws kharbata ladws kharbata ladws kharbata ladws kharbata ladws kharbata ladws kharbata ladws kharbata ladws kharbata ladws kharbata ladws kharbata ladws kharbata ladws kharbata ladws kharbata ladws kharbata ladws kharbata ladws kharbata ladws kharbata ladws kharbata ladws kharbata ladws kharbata ladws kharbata ladws kharbata ladws kharbata ladws kharbata ladws kharbata ladws kharbata ladws kharbata ladws kharbata ladws kharbata ladws kharbata ladws kharbata ladws kharbata ladws kharbata ladws kharbata ladws kharbata ladws kharbata ladws kharbata ladws kharbata ladws kharbata ladws kharbata ladws kharbata ladws kharbata ladws kharbata ladws kharbata ladws kharbata ladws kharbata ladws kharbata ladws kharbata ladws kharbata ladws kharbata ladws kharbata ladws kharbata ladws kharbata ladws kharbata ladws kharbata ladws