Coronavirus India Live Updates: States ask Centre to increase supply of oxygen cylinders, Remdesivir, ventilators, vaccine doses - The Indian Express
Covid-19 testing at Chacha Nehru Bal Chikitsalaya on Friday in New Delhi. (Express Photo By Amit Mehra)Coronavirus India Live Updates: Eleven states and Union Territories, in a meeting with the Centre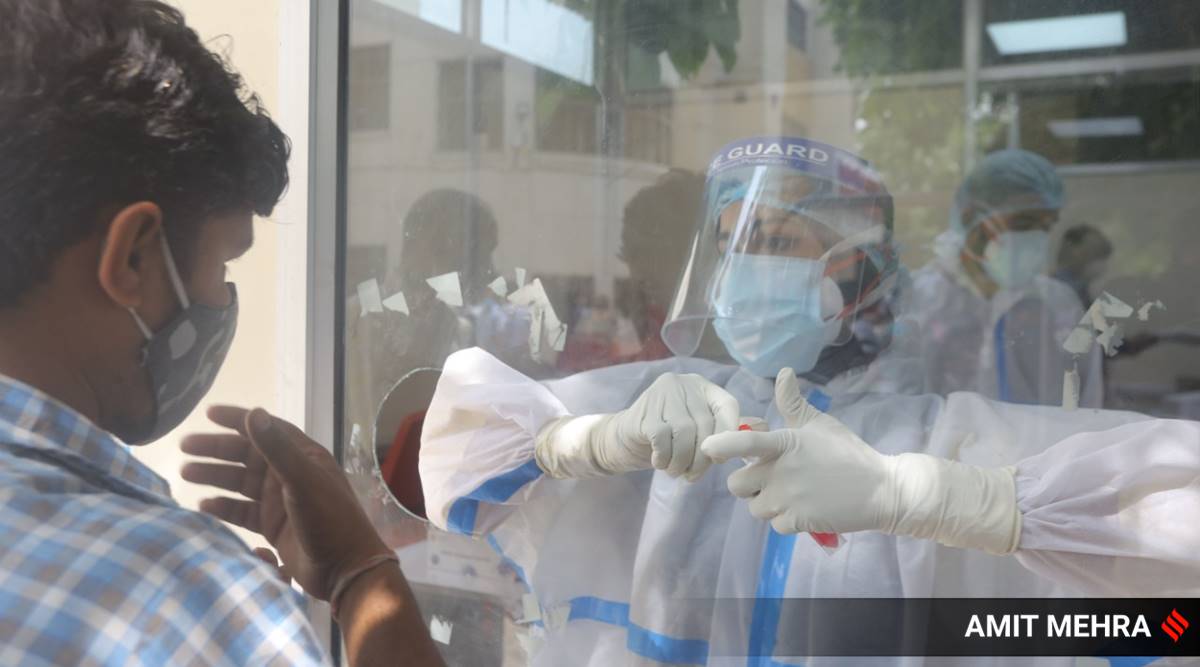 Coronavirus India Live Updates: Eleven states and Union Territories, in a meeting with the Centre, on Saturday raised demands of increased supply of oxygen cylinders, vaccine doses and Remdesivir for hospitals that are grappling with the spurt in coronavirus cases. A high-level meeting was chaired by Union Health Minister Harsh Vardhan to review measures taken by them for prevention, containment and management of the recent surge in COVID-19 cases, where the states, including Maharashtra, Chhattisgarh, Rajasthan, Gujarat, Madhya Pradesh, Kerala, West Bengal, Delhi, Karnataka, Tamil Nadu and Uttar Pradesh, took part.
"Many of them raised the issue of dovetailing the medical oxygen supply lines and capping of prices of essential drugs like Remdesivir which has been sold in the black market at exorbitant prices. Double mutant strain in Maharashtra was a key point of concern. The Delhi government requested for additional beds in central government hospitals as was done in 2020 to help tide over the emergent health crisis," the ministry said in a statement after the meeting.
Earlier today, the global death toll from the coronavirus surged past 3 million people, according to a count by John Hopkins University. The world did not record one million deaths until September 28, but had recorded two million by February 21, less than five months later. And the latest million took less than two months. The United States, Brazil and Mexico lead the world in Covid-19 deaths.
Meanwhile, India on Saturday reported 2,34,692 new Covid-19 cases and 1,341 deaths in the last 24 hours, according to data from the Union Health Ministry. The total cases in the country now stand at 1,45,26,609. There are now 16,79,740 active cases while 1,26,71,220 people have recovered from the disease. The overall death toll has reached 1,75,649. As many as 11,99,37,641 people have been vaccinated so far.
Accusing the Modi government of "gross unpreparedness" and "adhocism" in dealing with the COVID-19 crisis, Congress president Sonia Gandhi on Saturday made a slew of suggestions to the Centre to deal with the pandemic such as reducing the immunization age to 25 years and providing income support to people. In her opening remarks, while chairing the meeting of the Congress Working Committee (CWC), Gandhi also accused the Centre of giving preferential treatment to some states while maintaining "thundering silence" on requests of states ruled by the Congress and opposition parties.
Earlier during the day, Prime Minister Narendra Modi said on Saturday the ongoing Kumbh in Haridwar should now have symbolic participation due to the COVID-19 crisis. Modi tweeted that he spoke to Swami Avdheshanand Giri of Juna Akhara over telephone and enquired about the health of saints, many of whom have contracted the infection, and also conveyed his appreciation for their cooperation with the local administration.
With the demand for vaccines increasing, the Centre Friday announced a plan to double by May-June the Covaxin production capacity of Hyderabad-based Bharat Biotech, including a grant of Rs 65 crore for building a new production facility in Bengaluru. On Friday, as the country registered a record 2,17,353 new cases and 1,185 deaths, several states reported shortage of oxygen supply due to the surge. Against this backdrop, Prime Minister Narendra Modi held a review meeting on the current situation of oxygen supply and projected use over the next 15 days in 12 high-incidence states — Maharashtra, Madhya Pradesh, Gujarat, Uttar Pradesh, Delhi, Chhattisgarh, Karnataka, Kerala, Tamil Nadu, Punjab, Haryana and Rajasthan.
Meanwhile, a day after the death of the head of the Maha Nirvani Akhada from Madhya Pradesh, who had arrived for the Kumbh and tested positive for the coronavirus, several akhadas at the Mela on Friday rushed to take precautionary steps. The Niranjani Akhada and Taponidhi Shri Anand Panchayati Akhada announced symbolic participation at the next shahi snan on April 27, "with a minimum possible number of sadhus". Both also urged their followers to leave and quarantine at their ashrams.
https://r6nationals.gg/pavos-gratis-fortnite-4apk.pdf
https://padlet-uploads.storage.googleapis.com/207512601/819405411e0b6e19d550f8f84d93fd0a/pavos_gratis_fortnite_a5gp.pdf
https://s3.amazonaws.com/external_clips/3772420/pavos-gratis-fortnite-9a7k.pdf
https://trello-attachments.s3.amazonaws.com/60370d7773638b7e68913fa2/60370d91dfa54e246ac6b9b7/a680e0a78c195cd0293bde13d3244fe1/pavos-gratis-fortnite-l8f9.pdf
At least 59 saints have tested positive so far, including the president of the Akhil Bharatiya Akhada Parishad, apart from more than 200 pilgrims (of 1.54 lakh tested), even as officials fumble before the impossible task of keeping the virus out at a gathering that has seen crowds up to 32 lakh.